When it comes to artisan-level new construction homes, it's all about combining one-of-a-kind craftsmanship with functionality. Today's homeowners desire a seamless blend of innovative design, cutting-edge technology, and exceptional comfort. Here are five must-have features that should be on your radar.
Smart Home Automation
Imagine adjusting the temperature, dimming the lights, and playing your favorite music as you walk through the front door – all from your phone. With smart home automation, you can transform your living space into an intuitive, tech-savvy sanctuary.
High-End Kitchen Appliances
The kitchen is the heart of a luxury home and equipping it with high-end appliances is a must. Modern new construction homes feature top-of-the-line, professional-grade kitchen appliances that combine style and functionality.
From sleek built-in refrigerators with smart features to commercial-grade ranges and ovens, these appliances not only elevate the aesthetics of your kitchen but also enhance your cooking experience. 
Spa-like Bathrooms
There's no better place to rest and relax than in a spa-like bathroom. Luxurious artisan homes often feature primary bathrooms that rival high-end resorts and spas.
Look for spacious, well-designed bathrooms with features such as oversized soaking tubs and rain showerheads. Incorporate elements like heated floors, unique lighting, and built-in audio systems for a truly immersive and relaxing experience.
Outdoor Oasis
Luxury living extends beyond the four walls of your home. An outdoor oasis is a must-have feature for many, providing an extension of your living space for relaxation, entertaining, and enjoying nature.
Consider features like expansive outdoor living areas, complete with comfortable seating, fire pits, and outdoor kitchens. Incorporate well-designed landscaping, including lush gardens, water features, or a swimming pool, to create a serene and visually stunning outdoor retreat.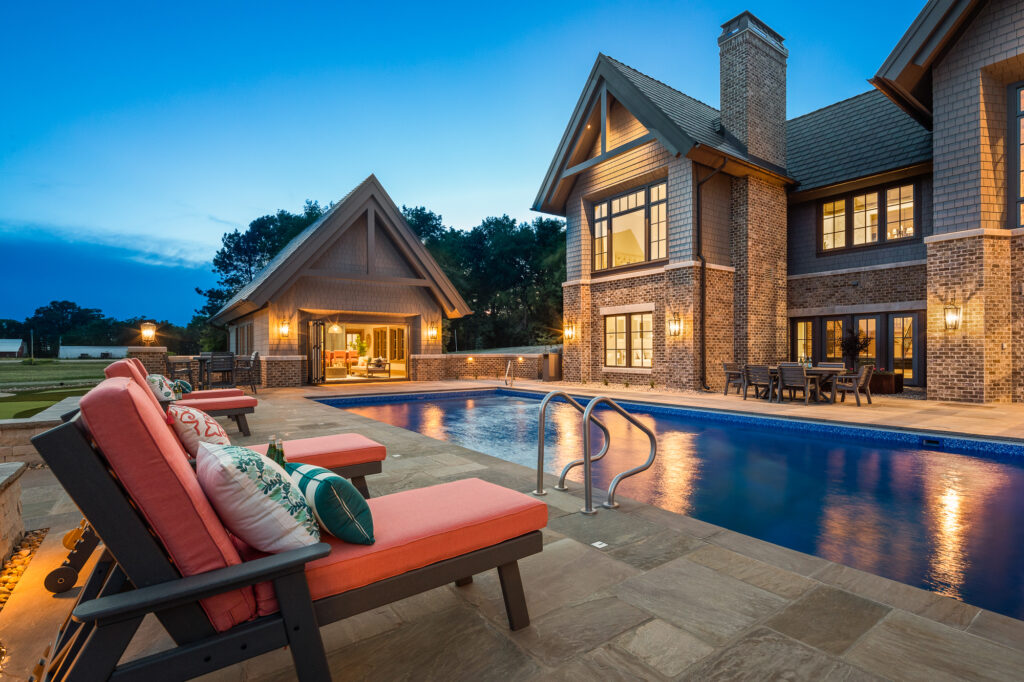 Home Theater
Experience the ultimate in-home entertainment with a dedicated home theater. A private cinema room, complete with state-of-the-art audiovisual systems, immersive surround sound, and plush seating is the perfect addition to a movie lover's home. This space can also double as a place to practice your golf swing!
When it comes to modern luxury new construction homes, these five must-have features are designed to enhance your lifestyle and provide unparalleled comfort. Incorporating smart home automation, high-end kitchen appliances, spa-like bathrooms, an outdoor oasis, and a dedicated home theater will elevate your living experience to new heights.